ENERQUIP THERMAL SOLUTIONS

Southgate Process Equipment is a proud authorized distributor for Enerquip.
If you are interested in Enerquip's innovative line of products or their custom engineered solutions, request a quote or call us @ (770) 345-0010.
Enerquip is a leading provider of sanitary and industrial heating and cooling solutions for customers in a variety of industries including food, beverage, pharmaceutical, asphalt, biofuels, tank terminals and more.
Made in the USA, Enerquip's innovative line of products includes shell and tube heat exchangers, vapor condensers, thermal fluid heaters with serpentine or helical coils, asphalt heaters, tank heating coils, steam generators, waste heat economizers, suction heaters, bayonet immersion heaters, and other custom OEM fabrication.
Enerquip's thermal design engineers and ASME code welders design and build standard and custom engineered solutions to fit even the toughest of applications. When you need a solution that is guaranteed to work, trust the experts at Enerquip.
Enerquip's Shell & Tube Heat Exchanger Specialties
Sizes: Up to 48″ diameters (or larger, depending on weight)
Styles: U-tube, straight tube, single-pass, and multi-pass configurations
Materials: Carbon Steel, 304L SS, 316L SS, Duplex, AL6XN, Hastelloy, and more
Types: ASME, TEMA (Class B, C or R), PED, CRN
Enerquip's Quality Standards
Enerquip is an ASME code autherized manufactuer holding both U and R stamps, approved by and registered with the National Board of Boiler and Pressure Vessel Inspectors to perform work to ASME Section VIII, Division 1.
We provide standard and custom exchangers built to 3-A Sanitary Standards for dairy applications.
Enerquip designs and builds to the TEMA Standard, and can meet PED, API 660 and Canadian Registration (CRN) requirements (when applicable).
Every exchanger is inspected, hydro-tested and code stamped prior to shipment.
Where Innovative Design Meets Robust Manufacturing
Enerquip's Shell & Tube Heat Exchanger Solutions: WFI & CIP Heaters, Point-of-Use Coolers, Preheaters, Process Coolers, Condensers, Clean Steam Generators, Evaporators, Utility Heaters & Coolers, Reboilers, Stock & Custom Exchangers

Enerquip's proven project management process ensures consistent communication and on time delivery.

Their decades of experience, large design library, and inventory of standardized parts helps streamline the design and manufacturing process

Enerquip's in-house machining capabilities and certified welders maintain tight control over the schedule of the fabrication process, avoiding the delays normally associated with outsourcing.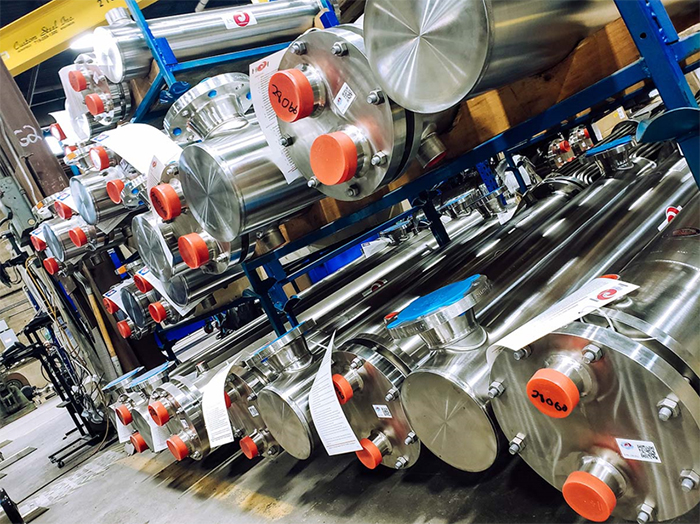 Enerquip has a full line of standard sized heat exchangers available for fast delivery. We also stock replacement tube bundles, gasket sets and other parts for our exchangers to support our customers' maintenance programs.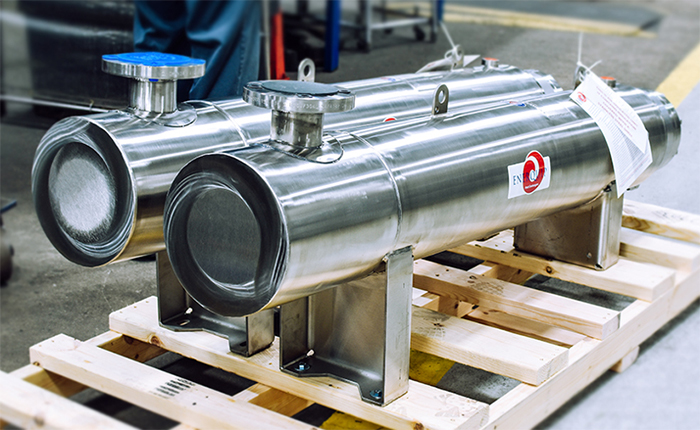 If you need a custom exchanger for a unique heating or cooling application, Enerquip's experienced engineers can design the right exchanger for your process and space constraints. Using the experience gained from building literally thousands of different exchangers, Enerquip applies leading design software and modern manufacturing methods on every new design we create.
Enerquip's Industrial Heating Solutions

In addition to high quality stainless steel heat exchangers and vapor condensers, Enerquip also fabricates other process related equipment for OEM's and system providers. These include Thermal Fluid Heaters, Asphalt Heaters, Bayonet Immersion Heaters, Tank Heating Coils, Suction Heaters, Waste Heat Economizers, Steam Generators, and other custom components.