Model SSCF : Standard Xchange | ITT Standard | Xylem
Learn More About Model SSCF From Xylem, Standard Xchange
As the recognized leader in heat transfer products, systems and technology, The Standard Xchange model SSCF has been providing state-of-the-art solutions to heat transfer problems for more than 90 Years.
Today the company is devoted exclusively to the design, engineering and manufacture of shell-and-tube, gasketed plate, brazed plate and air-cooled heat exchanger products. Standard Xchange heat exchangers are engineered and manufactured by experienced craftsmen who have been devoted to the science of heat transfer not just for years, but for generations. And because we offer such a wide assortment of different heat exchanger designs, we can assure. you of getting the optimum heat transfer solution to your specific application, without bias toward any one particular (or proprietary) product line.
DETAILS on MODEL SSCF:
Compact design with shell diameters 2″ to 8″, standard tube lengths 8″ to 72″ with custom tube lengths up to 144″.
Available in 1, 2 and 4 tube side pass configurations.
1-2 Week Standard Lead-times with Expedite options for Same day or three day available for many units.
ASME VIII Code available for most units.
Flanged connection options also available.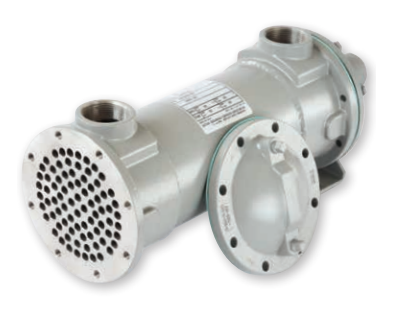 ADVANTAGES TO USING MODEL SSCF
Less costly than removable bundle heat  exchangers.

Provides maximum heat transfer surface area per given shell and tube size.
Easily interchangeable with designs of various manufacturers.
Flanged lip baffles ensure close tolerance, high efficiency and additional tube support.
Enlarged bundle entrance area of hub/tubesheet design lowers entrance velocity and pressure loss.
Tube side can be steam or mechanically cleaned.
Only tube side fluids exposed to gaskets.
No packed joints.
EXCHANGER TYPE


Straight Tube
Fixed Tubesheet
LIMITATIONS TO THE MODEL SSCF
No provision for differential expansion of tubes and shell.

Shell side may not be mechanically cleaned.
MATERIALS FOR THE MODEL SSCF
| | |
| --- | --- |
| | |
| | 316 Stainless Steel, With Tube Diameter Options: 1/4″, 3/8″, and 5/8″ |
| | |
| | Cast Stainless Steel 316 with Cast Iron and Cast Bronze options |
| | Carbon Steel with Stainless options |
SSCF/SSCF-C STANDARD DESIGN CAPABILITIES – STANDARD X-CHANGE – ITT STANDARD
REQUEST A QUOTE - MODEL SSCF
HEAT EXCHANGERS AND PRESSURE VESSELS FOR THE MODEL SSCF
STANDARD XCHANGE (formerly ITT Standard): Commercial and engineered (TEMA) shell and tube heat exchangers. Plate and frame heat exchangers with various material combinations, gasketed, welded and double wall designs. Brazed plate heat exchangers with standard and customized designs.
Munters/Des Champs: Air to air economizers, tubular and plate style for high temperature applications.

Heat Exchanger Design, Inc: Longitudinally finned hairpin and double pipe heat exchangers, large shell and tube heat exchangers, tank heaters and suction heaters. TEMA B, C, and R.

Industrial Heat Transfer, Inc: Finned tube heat transfer coils with continuous plate fin design. Many combinations of metals and custom designs.

Enerquip, LLC: Shell and tube heat exchangers, all stainless steel sanitary designs for pharmaceutical and food applications.
Elanco: Spiral: heat exchangers, welded plate and shell, ASME VIII.

J D Cousins, Inc.: Large fabricated tanks and shell and tube heat exchangers for chemical, power and general industrial.

FABSCO: Air cooled forced draft finned tube heat exchangers. ASME VIII and API 661.

Circle-S Products: Dry-Flo moisture separators, coalescers, receivers and dry types in stock and custom sizes. Surge tanks, small tanks and ASME VIII pressure vessels.
PACKAGED SYSTEMS & COMPONENTS
Spirax Sarco, Inc: Steam control and condensate recovery systems, steam traps, control valves, regulators.
Advantage Engineering, Inc: Industrial chillers, air and water cooled in complete packaged systems. Standard and custom designs. Cooling Towers, Temperature Control Units, Pump/Reservoirs Systems.

Kerr Pump & Supply: Custom designed skid mounted packaged systems with controls, filters, tanks, pumps, heat exchangers, etc.

ITT Neo-Dyn & ITT Conoflow: Regulators, transducers, actuators, positioners, temperature switches, and pressure switches.

Gaumer Company: Electric heaters, customer and stock. Immersion, circulation, duct, strip and band heaters. Packaged systems with optional controls.